Two-headed tortoise born in Slovakia
Author: Rakuen Growlithe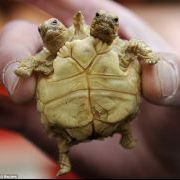 A two-headed, five-legged tortoise was born in Slovakia two weeks ago, and displayed in Žilina on March 7.
The left head is named Magda and the right, Lenka. They are conjoined twins of a sulcata tortoise native to the Sahara Desert. If the tortoise survives to adulthood it may reach a length of 1m and weigh up to 75kg.
Although all are scientifically known as chelonians there is often confusion about the terms tortoise, turtle and terrapin. Although there are regional differences, a generally accepted definition is that chelonians on the land are tortoises, those in the sea are turtles and the ones in ponds/lakes/rivers/swamps are terrapins.
Find the full article here: flayrah – furry food for thought
Creative Commons: Full post may be available under a free license.